At the crucial moment
Please rest assured that we will ship normally.
At the same time, we hope you take good care of yourself.
☆☆☆☆☆ WELCOME TO THE STORE!
🍉Newest Superior Design:
🍉Windmill Watermelon Slicer: It helps you to make cube shaped slices of watermelon every time! Its unique design allows you to make watermelon slices without breaking a sweat quickly and conveniently!
🍉Ice-Cream Watermelon Cutter: It helps you to make popsicle shaped slices of watermelon easily! A fun way to cut the fruit with your kids!
🍉Clip Watermelon Cutter: It helps you cut half circle slices of watermelon by just using the cutter. Very convenient to use especially when you have one hundred things to do in the kitchen.
🍉Easy & Safe: It's unique rounded edges and non-sharp blades, making it perfectly safe for you and your kids.
🍉Stainless steel Watermelon Slicer is an easy tool to make watermelon cubes smoothly and easily. Turn a watermelon into cubes you imagined with just need one easy step, just to push it, and then to make them exhibited on a plate.
The Watermelon Cutter is the best kitchen tool you can have. It will make your life easy when preparing this fruit for your family and friends. It comes in 3 variants, the windmill type, ice cream type, and clip type. The ice cream watermelon clicer is fun to use especially when you have kids.
Add the Watermelon Slicer to your kitchen tools now! Great gift idea for your friends and family too!
A fun way to cut watermelon with speed and precision, this handy tool is made from premium grade 18/10 stainless steel. The superior material makes it look like a high end tool, but it also provides durability, and it's the reason why this one is so easy to use when compared to other options. With almost no effort at all, anyone can cut perfectly uniform slices in a matter of seconds. Just press down and the cutting end will glide effortlessly through the flesh of the fruit to cut a one inch thick slice, and as you section each piece, you'll also be removing the rind. Flip the tool over to use it like a large pair of tongs to scoop the slices out, and serve them. If you're making a fruit salad, continue using the tool to turn the entire watermelon into a pile of perfectly shaped cubes in just a few minutes.
Save time and effort when preparing for backyard barbecues and summer picnics, and avoid using big scary knives. This 3-in-1 tool offers a safe and effective way to quickly slice fruit, and it guarantees that each piece will be perfectly shaped, and equally thick. It's designed for use with watermelon, but you can also use it with cantaloupe, honeydew and others. Thanks to 100% stainless steel construction, clean-up is a breeze because you can toss it in the dishwasher for cleaning. Impressive and enjoyable, this clever tool makes a great addition to any kitchen.
Why It's Good
Top Quality. Don't get fooled by pictures that look the same, this tool is much higher quality when compared to other versions available. Flimsy alternatives are often smaller, and the thin material is less comfortable, less effective, and way less durable. This one is made from professional grade steel, and the superior design and cutting head guarantee that it will work better and last longer than the competition.
Easy-To-Use. Anyone can use this tool, and it doesn't take practice or skill to get perfect looking results.
Multi-Use. More than just a slicer, this handy gadget also works to scoop each slice out, and it grips on tight, so you can also use it to move the slices to a plate, or to serve individual pieces.
Comfortable. Thick steel construction, and a wide handle with rounded edges give it a great feel. You can get a firm grip without any discomfort, and you can use it for a long period without feeling any strain.
Fast. A super quick way to section a melon, it will help you cut up a whole watermelon in a matter of seconds.
Thick or Thin. If you don't like one inch thick slices, you can always cut thinner ones, after you cut the first slice. Just remove the first piece, then cut the next one to any thickness you want, up to 1 inch.
Friction-Free. A smooth and shiny surface, a curving shape, and special cut out sections help this slicer glide through fruit with amazing speed and precision. No sticking means fast and effortless cutting.
Perfect Results. Glide over the internal surface of the rind to separate it from the fruit and cut out a perfectly shaped slice with a uniform thickness.
DURABLE STAINLESS STEEL BLADES: easily slices through watermelons, cantaloupes and honeydews without bruising the fruit. Much quicker than using a knife.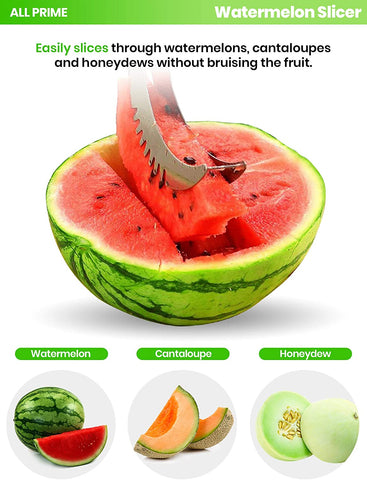 ABSOLUTELY NO STICKY MESS: juices stay in the rind, not on your hands and countertop. And this handy tool is dishwasher safe. Wonderful watermelon cutter and great large fruit slicer.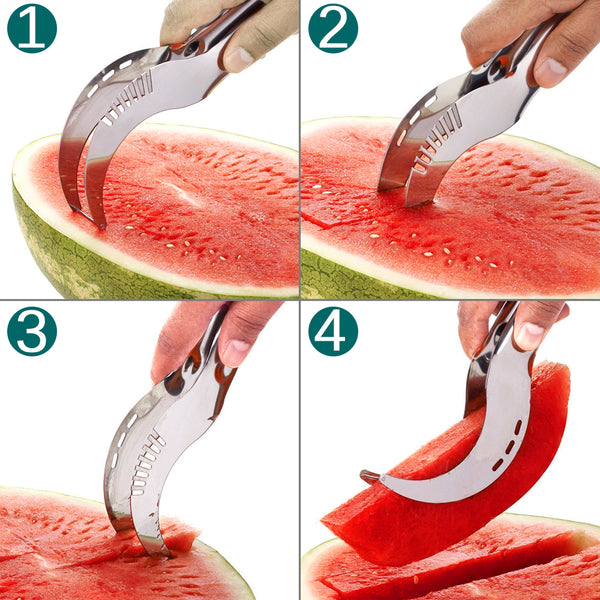 CREATE A MASTERPIECE: This Watermelon Slicer expertly portions and removes each slice from the rind, leaving you with a natural bowl to serve your fruit salad or melon delight. This 3 in 1 accessory does it all: slices, cores, and serves.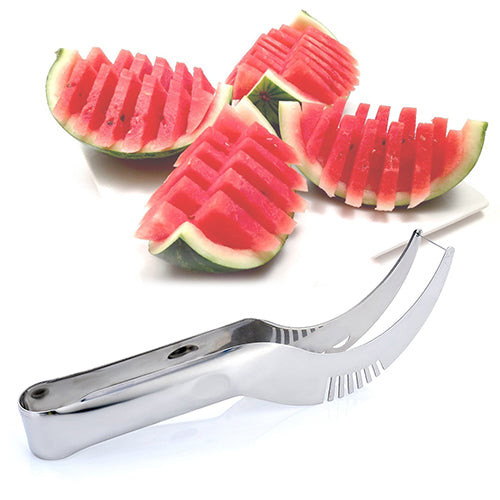 Package includes:
2 x Watermelon Cutter
😍😍 Dear Happy Shopping and Always Think Positive
💌You can contact our customer service via chat to learn more about product details. We will answer for you at the first time.
💗 Just like friends, remember to follow our shop and we will give you the best service! Note: The incoming orders will be sent by the courier.