At the crucial moment
Please rest assured that we will ship normally.
At the same time, we hope you take good care of yourself.
☆☆☆☆☆ WELCOME TO THE STORE!
All wood carving products are carved from solid wood,
If in doubt, you can contact our Facebook page to request a video inspection!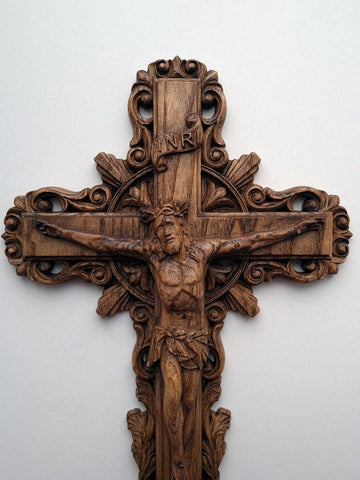 ★Project details

• Craft: hand-carved
• Treatment: manual polishing
• Material: Ash wood, Water-based paint
• Weight: 300 grams
• Size: 32*19*2.5cm (12.5X7.5 Inches)
Jesus reminds us when we forgot, Jesus strengthens us when we grow weary, Jesus motivates us actions on love instead of personal gain when we are hesitating.
the Crucifixion represents the ultimate sacrifice and a gift from God to humankind. Because humans had repeatedly sinned and broken covenants (agreements between God and the Jewish people), the only proper atonement was the sacrifice of God's own son, poetically described as "the Lamb of God, who takes away the sins of the world." Through agreeing to be put on trial and then accepting the penalty of death, "Jesus atoned for our faults and made satisfaction for our sins." This means that because of Jesus' selfless action, it was possible for God to erase the sins of humans.
the death of Jesus demonstrated the love of Christ for all people, and "at the hour of Christ's Crucifixion" it was clear that "the depth and breadth of God's love shone forth."
RELIGIOUS ART WOOD CARVING: This is a stunning 12,5" Wooden Crucifix carved from solid wood. This realistic wall crucifix wood carving is breathtaking and is a rustic wooden crucifix perfect for hanging in any room in your home or church. It is an  ideal Christian gift, Baptismal Gift, Christian Wedding gift or a very special upcoming Christmas gift.
Such wooden wall canvas is a great religious gift for your friends and loved ones, regardless of age and social status or decoration in your home.

It is durable, not getting worse, does not lose its authentic form, doesn't go out of style and will last more than lifetime.