At the crucial moment
Please rest assured that we will ship normally.
At the same time, we hope you take good care of yourself.
☆☆☆☆☆ WELCOME TO THE STORE!
All wood carving products are carved from solid wood,
If in doubt, you can contact our Facebook page to request a video inspection!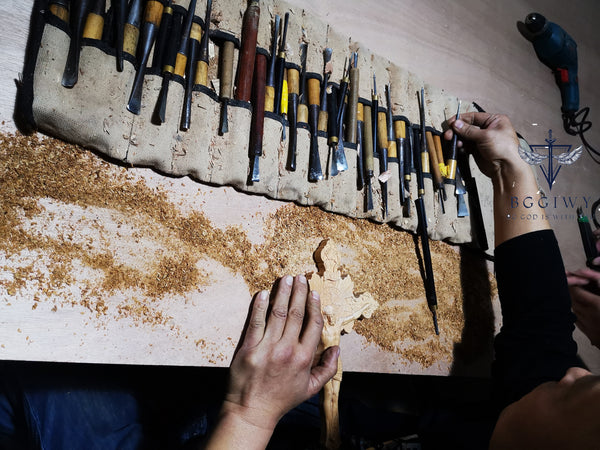 The intercession of St. Benedict is known to have power and our faith can release this power. This saint benedict crucifix is reminder that we are protected by the power of Christ.
This stunning 12.5" wooden hand-carved Saint Benedict crucifixion cross is a great religious gift for your friends and loved ones, regardless of age and social status or decoration in your home.
This Saint Benedict Crucifix brings blessing and protection to wherever it is hung. it combines the two great images of holy protection: The Cross of Christ Crucified and the St. Benedict Medal.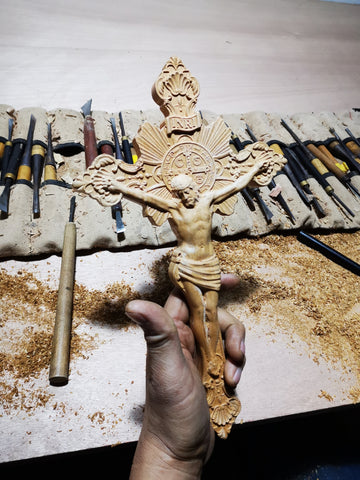 It is durable, not getting worse, does not lose its authentic form, doesn't go out of style and will last more than lifetime.
RELIGIOUS ART WOOD CARVING: This is a stunning 12.5"X7.2" Wooden Crucifix carved from solid wood. This realistic wall crucifix wood carving is breathtaking and is a rustic wooden crucifix perfect for hanging in any room in your home or church. It is an ideal Christian gift, Baptismal Gift, or a very special upcoming Christian Wedding or religious gift-giving occasion.
★Project details

• Gender: Male Female
• Material: Solid wood carving
• Weight: 300 grams
• Size: 32*18*2.5cm (12.5 x 7 inches)