At the crucial moment
Please rest assured that we will ship normally.
At the same time, we hope you take good care of yourself.
☆☆☆☆☆ WELCOME TO THE STORE!
Makeup clutter causes frustration and wastes precious time during a morning routine.
Make your routine Quick and easy with this Magic Cosmetics Pouch.
Not only is it perfect as a normal makeup bag but it's waterproof and shock resistant material means it's perfect for on the go travel as well! 

DESCRIPTION
✔ ALL THE SMALL THINGS - The bag that moves as fast as you do! Easy drawstring open and close access to your essentials created with innovation for durable performance.
✔ PACK UP INSTANTLY - Packing up all your products is no longer a chore. Just place everything on the open makeup bag, and pull the strings to close. It is that simple. 
✔STYLISH, DURABLE & MACHINE WASHABLE - The raised outside lip will keep items from rolling away while the zippered storage pocket nestles small accessories.
✔TRAVEL FRIENDLY - Fits everywhere and hangs easily providing mess-free packing and easy travel. The lay-flat design protects items from touching foreign surfaces and features water-resistant polyester fabric that is easy to clean.
✔ PERFECT ON THE GO - Makeup and traveling can be frustrating. And it not only saves time but is made from shock and waterproof material which protects your expensive makeup.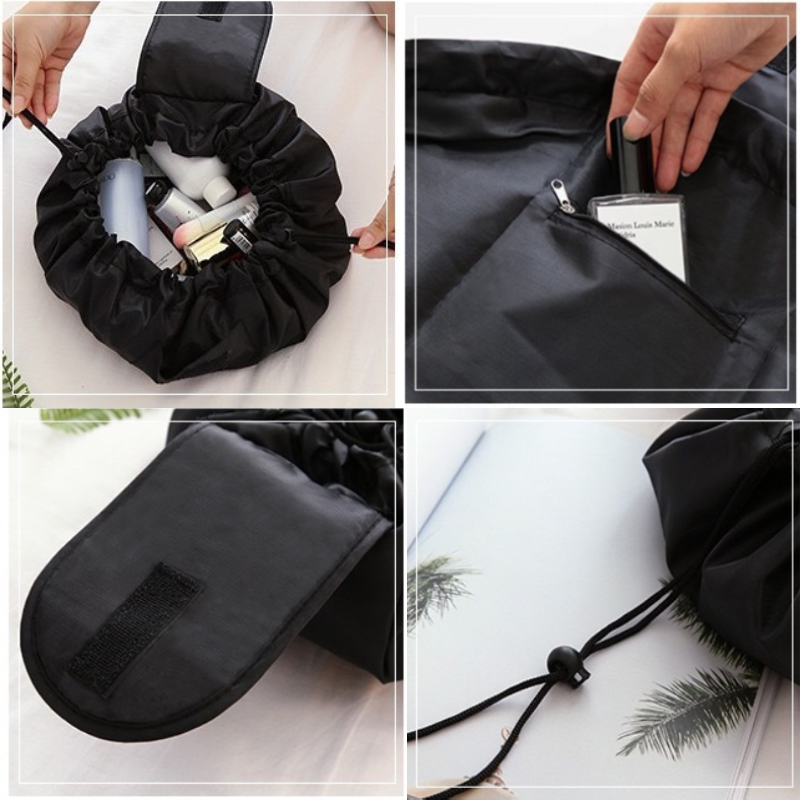 Includes     
1 x Portable storage bag
Size
25 .5cm * 18 cm * 10.5 cm